---
Pete´s Homepage...January 98 edition...come in
---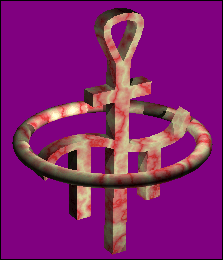 Hi! My name is Pete Bernert and that´s my first try to create a Homepage. First some facts about my person (you can jump this stuff, it´s only for my ego). I am...

* 27 years old

* full time MS-Windows programmer (made my Dipl.-Inf. in Mannheim, Germany)

* Living with my girlfriend Heike and dog Charly in a small little village near Eberbach (that´s near Heidelberg, somewhere in Germany, on that somewhat blue planet this side of the galaxy)

* Loving to ride my chopper (motorbike, easy-rider style)

* Enjoying to play all sorts of computer games (mostly the role-playing type like Ultima, but never ignoring a good graphic adventure or a space shoot-em-up or a three-dee-first-person-kill-em-all-till-the-end-action game or...oh it seems this list could fill all the valuable space I have on this server for my own... nevertheless... sporting games suck!)
OK... now the real stuff, here is what I have to offer...

* the newest demo version (2.0.15) of the labeling software Labels Platform (running under Windows 3.x , Win 95 and NT) was growing to large (sorry, but the german telecom reserves just one MByte for private homepages), so I had to remove the demo. Nevertheless you can get it from the official product site (see below).
About the program: It´s an easy-to-use editor for creating professional labels. It contains support for UBI-printers, ZEBRA-printers and FARGO-printers, but it could also do the printing on every Windows standard printer. All the programming and design was done by my person, excluding the printer spooler and some nice support funcs (thanks to Hartmut Zander).
It was coded in C using the MS-C 7.0 without any MFC-support (so it could be witout bugs) and it has all the features you could expect of a professional software: WYSIWYG, smooth zooming, tool- and statusbar, property windows, and so on...
* In December 1997 I realized that my Win95 media player couldn´t play MIDI-files anymore (instead of playing music there was just a crash message). I couldn´t track the bug yet (it seems only to occur in the mplayer, no problems in other progs detected, so I wonder which crap software I installed lately did this wonderful updating), but, hey, I AM a programmer after all, so what the hack! I spent a saturday afternoon writing my own media player, it plays MIDI,WAV and AVI-files, and has all functions I need. You can start it even with a commandline containing the filename to play, so I changed the registered filetypes MID, WAV and AVI in the MS Explorer to use my prog instead the buggy mplayer.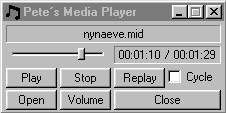 You can download this small program, I give it away for free, but don´t blame me, if it doesn´t work on your system (but, have I said it before, I AM A GOOD PROGRAMMER, harharhar)...it´s a ZIP file (75 KByte), the real program is just one EXE (150 KByte).
* and here´s a link to my game page, from time to time I will place some useful tips to new games in it, so check it out...
* and last a link to the company I am working for... if you're looking for specialized soft- or hardware or the newest Labels Platform demo, so take a look...
---
OK, folks, that´s all for now... this page was created with MS FrontPage and some HTML-Coding of my own, all graphics were done by my very own person, the famous PI-TECH sign was created with the POV-Raytracer and the GIF construction set.
Have fun !
Last update of this page on January 4, 1998
---